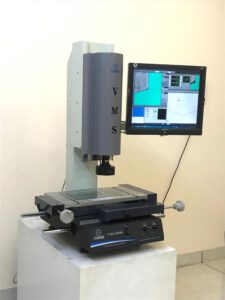 Features
Independently developed QMS 3 D-M software, high resolution imported color camera.
By availing the auxiliary light adjusting function of the software, the user knows whether the light is saturated.
The Laser indicator can quickly locate the target workpiece, which is suitable for measuring sophisticated workpiece.
Auxiliaryheight measuring can be achieved.
"T" groove type worktable canhouse various fixtures (VMS-1510G excluded)
The resolution ofthe linear scale is 0.5 um.
Footswitch and software facilitate operation ofthe machine.
Application
Widely used in the field of electronics, machinery. instrument and plastic, G series video measuring system isused intwo dimension measuring.
Specifications
Model
VMS-1S10G
VMS-2010G
VMS-2515G
VMS-3020G
VMS-4030G

WorkTable

Metal worktable size (mm)
354 X 228
404 X 228
450 X 280
500 X 330
606 X 466
Glass worktable size (mm)
210 X 160
260X 160
306 X 196
350 X 250
450 X 350
Travel (mm)
150X 100
200X 100
250 X 150
300 X 200
400 X 300
X, Y, Z, axis resolution
0.5 qm
Accuracy (qm)
E1XY=(2.5+L/100)qm
Weight (kg)
100
110
120
140
240
Z axis travel (mm)
200 (can be customized to 300)
(can be customized to 00)
Video System
Camera : 1/3" color CCD Camera Zoom Lens : 0.7X -4.5X
Total Magnification : 26.6X – 171X Field view : 8.1mm – 1.3mm
Power :Ac 100 – 240V 50/60Hz Power : 50W (computer excluded)
Spare parts
1.0X lens cone (standard)
0.5X lens cone (optional)
Working distance (mm)
Zoom Lens
0.7X -4.5X
0.7X -4.5X
Additional lens
Magnification
object view (mm)
Magnification
Object view (mm)
0.5X (optional)
13.3X -85.5X
16.2 – 2.6
6.65x – 42.7X
32.4 – 5.2
175
1.0X (standard)
26.6X – 171X
8.1- 1.3
13.3X- 85.5X
16.2-2.6
92
2.0X (optional)
53.2X – 342X
4-0.7
26.6X – 171X
8.1- 1.3
36
Proposed worktable :loading caacity > 350kg; Dimensions :(L X W X H) 1000*600*500 (mm)