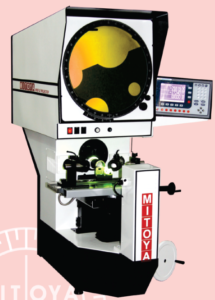 This series is table top with Horizontal Light Axis in two different screen size of 300mm/400mm with heavy duty work stage to enable the inspection of heavy work pieces, such as from cutters, hobs, gears, large screw threads, thread rolls and large turned components etc.: measurements on digital display and data processor.
Horizontal Profile Projectors (Model 300H / 400H)
Specifications
Model
Model
300H
400H
Screen Diameter
300mm
400mm
Work Stage
500 X 170mm
500 X 170mm
Stage Travel x-y axis
250 X 100mm
250 X 100mm
Focussing Range
75mm
100mm
Mass(approx)
125kg
140kg
Protactor Screen
360° Rotation with 2 minutes vernier resolution
Magnification-standard
10x
                     -optional
20x, 25x, 50x, 100x
Magnification Accuracy
±0.05% on contour and ±0.1% on surface
Lens Mounting
3 turret type for safety and easy use
Table Top Area
With T-slots (Helixable for 15° either sides)
Resolution
0.005 (0.001mm-option)
Measuring System
By x-y digital read out (optional PC based software)
illumination
.
24V,150W Halogen, Forced Air cooled, light intensity controller
for variable backgrounds
Filter Colour
Green (Yellow-option)
Power supply
AC Single phase 230V, 50Hz
Standard Accessory
.
V-Block set of 2 nos. with centers, Projection Lamps 2 nos, operating manual, Calibration Certificate Traceable to NPL.